Recycling and S&W Waste Footprint:
S&W Deconstruction are committed to recycling and reducing our footprint.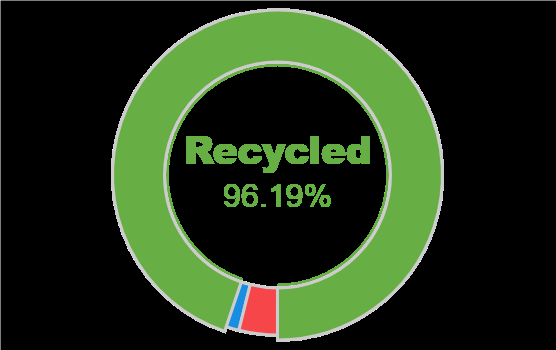 We will only use reputable skip companies to remove our waste and have monitored our own waste over the last five years and produced the impressive statistics shown below. The 3.81% includes Asbestos which shows just how much is recovered and recycled because clearly asbestos is not. Although S&W are not Asbestos removers first and foremost we have team members who are qualified to remove Non-Licensed Asbestos and where it is a small part of a larger stripout we offer this service. We will where possible Site Segregate and request Timber, Plasterboard, Inert, Mixed Waste, Hazardous waste and Metal skips and although we have looked into plastic waste skips this is not at this time viable to segregate on site. There are many Certifications that Skip and recycling centres adhere to but our Skip providers typically have several if not all of the following industry recognised certifications; CIWM Organisation approved, UKAS approved, ACS Registered, UVDB Qualified and have Green Compass Certification.
Our Plastic Footprint – The current Topic

We are currently discussing the implications of our plastic footprint with our skip suppliers and the feedback we are getting is that there are so many different types of plastic that unless we have the same repeated plastic coming off a site it cannot be segregated at our end. However because we are choosing to use Skip carrier and waste companies of a professional standard they are segregating on our behalf at their yards and in most cases the plastic is separated, bundled and sold on to mainly Non-Uk plastic recycling outlets.

S&W Own Recycling In addition to skip waste, S&W have obtained an Environmental Agency Registration Top Tier which enables us to remove certain materials (non-hazardous) from site in our own vehicles. Sometimes the products being removed are not at the end of their life cycle and where possible S&W will donate to Charity Shops, gift to local Community Groups, Schools and Church group. In other scenarios the actual building materials are taken out in such good condition when we are asked to carry out minor Builders Work locally we will re-use the products. We have in recent years also donated money made from resale of recycled products to Northallerton Amateur Swimming Club, Cancer Research, Help for Heroes, British Heart Foundation, and (Sands) stillbirth and neonatal death charity, Salvation Army and Caring hands etc

S&W Waste Pie Chart from 2013 to 2019 obtained from Skip waste management records = Recycled, Recovered & Landfill Breakdown

96.19% Recycled 0.59% Recovered: 3.22% Landfill

Back to the home page...